Marcus Neustetter
Based in Johannesburg, Marcus Neustetter has been developing projects that play with the concepts of communication,
exchange and translation of information and experiences within systems and structures. Experimental in their approach
these have take the form of conceptually driven mixed-and multi-media, mobile, installation, digital video/photography
and web artworks playing with online and offline discoveries and information. While often digitally oriented, in this process
he has been actively exploring analogue and socially focused ways of responding to and interpreting his physical
and virtual experiences of his context. Inspired by systems (functional or dysfunctional), he seeks to present their
manifestation whether through ephemeral interventions or by proposing alternatives.
Arusha Masai Cafe in Tanzania
Affordable Fine Italian Dining in Tranquil Garden With Best Pizza in Arusha.
We offer you a Cultural moment in our Art Gallery which Exhibits Tanzanian and Visiting Artist from All-over the world.
Read more >>>
Salum Kambi, paintings. Read more >>>
Jane Ingram Allen
Artist-in-Residency Project at Warm Heart Art Tanzania, Arusha, Tanzania, Africa
January 24 - February 21, 2008 Read more >>>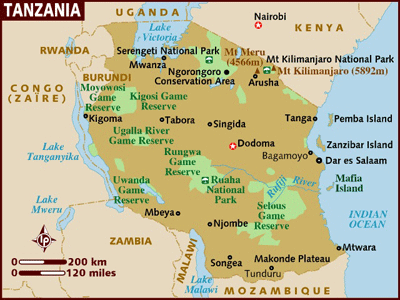 Art in Tanzania
P.O. Box 23333, Dar es Salaam, Tanzania
Email: info@artintanzania.org
www.artintanzania.org
African Arts Biennale - EASTAFAB exhibition
The first « East Africa Art Biennale » took place in Dar-es-Salaam, from December 2 to 22, 2003, and showed the artworks
of more than one hundred artists from Kenya, Tanzania and Uganda, but also included the participation of international
guest artists from Belgium, Denmark, Finland, India, Spain, The Netherlands, U.K., and U.S.A. The second edition of the
"East Africa Art Biennale" was held in Dar-es-Salaam, from November 2 to 22, 2005, and confirmed the growing success
of the biennale by providing better displaying and documenting of the artworks of another hundred contemporary artists
from Kenya, Tanzania and Uganda, but that included as well participants from Belgium, Canada, Denmark, France,
Ghana, Israel, Italy, Mauritius, Mozambique, Nigeria, The Netherlands, U.K. and U.SA.
For the official opening of the "East Africa Art Biennale- EASTAFAB 2007" on November 2nd, 2007, a selection of guests
from the government, diplomatic, media and private sectors will be invited at the National Museum of Dar-es-Salaam.
The biennale will be open to the public from November the 3rd to 22nd, 2007. Find more >>>
Liza Grobler - Jeanne Hoffman Afrikan Tahti in Raumars
an exhibition that will link our urban interventions in Cape Town with those in Finland. Read more >>>
Jill Trappler
Orange street studio
An interactive exhibition of some work that I have made over the past 30 years. Venue Orange street studio,
Gardens Presbyterian Church Cape Town.

Harvest the moon Size: 68 x 68 cm oil on collaged board 2001 to 2004
My studio is full of work that needs to be looked at so please call me if you are interested. Read more >>>
The 14th Triennial Symposium on African Art
The 14th Triennial Symposium on African Art will be hosted by the University of Florida's College of Fine Arts,
School of Art and Art History, Center for African Studies, and the Samuel P. Harn Museum of Art.
Gainesville is the site for the conference, and the theme will be Global Africa. Robin Poynor and Rebecca Nagy
are the Co-Chairs of the conference, and Victoria Rovine is the Program Chair. Susan Cooksey and Carol Thompson
have planned Museum Day. Bonnie Bernau, Director of Education at the Harn, and Agnes Leslie, Outreach Director
for the Center for African Studies, have organized Outreach Day. March 28-April 1, 2007 University of Florida, Gainesville,
Florida. Find more go >>> http://conferences.dce.ufl.edu/ACASA
African Studies Association, Inc.
The African Studies Association was founded in 1957 as a non-profit organization open to all individuals and institutions
interested in African affairs. Its mission is to bring together people with a scholarly and professional interest in Africa.
Read more >>>
Norman O'Flynn

Small Audience, 2007, wool and fiberglass, 60x100x50cm
Gallery Bell-Roberts www.bell-roberts.com
Visual Artist Norman O'Flynn is the Artist of the Month in July 07, find more >>>
Sculptor Baaba Jakeh Chande is the Artist of the Month in June 07, find more >>>
Visual Artist Alpheus Mvula is the Artist of the Month in May 07, find more >>>
Photographer Hannah Paton is the Artist of the Month in March 07, find more >>>
Tapping into the Known
Tapping into the Known - Is an exhibition of Poetry, Paintings and Installations by the late Poet Christopher Okigbo
and his artist daughter, Obi Okigbo that emerged as a result of 'conversations' between Obi and her father. Okigbo,
considered to be one of Africa's pre-eminent and enigmatic poets, died in the battlefields of the Nigerian civil war,
in September 1967, leaving his wife and two year-old daughter, Obiageli. Curated by Annabelle Nwankwo - Mu'azu.
The Brunei Gallery/SOAS
School of Oriental and African Studies, Thornhaugh Street, Russell Square, London
12 April - 23 June 2007 Read more >>>
The 2006 Thupelo workshop
Many of the artists who graduated from Rorkes Drift have been involved in Thupelo. Due to the concern they
expressed about the centre, we decided to work with Tami Jali and Christiane Voith, Centre manager at
ELC Art & Craft Centre, and bring artists from various backgrounds to work together for a two week period.
Find more >>>
AFRICA SOUTH ART INITIATIVE
To promote a vision of post-colonial, post-apartheid transformation that privileges critical and constructive engagement
between artists (and associated professionals and institutions) on the African continent by
- contributing towards the development of a critical discourse on the visual arts in Africa
- promoting greater interaction between artists (and associated professionals) in African countries
- developing resources on modern and contemporary African art
- creating new possibilities for artists in Africa to exhibit and sell their works.
Go for AFRICA SOUTH ART INITIATIVE >>> www.asai.co.za
Contact ASAI email
Makerere University - the Faculty of Arts
The mission of the Faculty of Arts is to create and transmit ideas, knowledge, virtues and values to students with
a view to preparing them to be leaders and workers for their country in particular and the world at large.
Apart from being one of the oldest and largest in the University, the faculty has a reputation for excellence and
a commitment to ensuring that its students are well prepared for the ever-changing job market. Read more >>>
Epa Binamungu from Kigali Rwanda.
Art is an expression of human creativity.It is a voice that reflects man's challenges and emotions,
It speaks of conditions within the societies we live in. Art is a story of experience complimented by imagination.
Read more >>>
Shoot West Africa
We provide scrip research, location scouting and production coordination to international clients for photoshoots,
music video, Motion Picture, commercials and Television Industry. We will handle all permissions,
customs clearance of equipment, local Casting and Extras. If under budget, we will consider co-production support.
Operating throughout West Africa. Go for Shoot West Africa >>> Contact email
The Premises at the Johannesburg Civic Theatre
The second incarnation of The Premises gallery finally sees the light of day as of January 01, 2004. Loveday Street,
Braamfontein, Johannesburg, South Africa Find more >>>
The School of Oriental and African Studies SOAS.
Making a difference. Since its formation in 1916, the School of Oriental and African Studies - or SOAS as it's better known -
has built an enviable reputation around the globe for the calibre and quality of its courses, teaching and research.
Find more >>>
The Weekly Observer - Kampala Uganda
The first copy of The Weekly Observer saw the light of day on March 25, 2004. The newspaper was formed
and is independently owned by a co-operative of 11 young men and women, 10 of them journalists formerly working
with The Monitor. Read more >>>
Africa e Mediterraneo
Africa e Mediterraneo is an interdisciplinary journal of African cultural studies, published three times a year in Fall, Winter,
and Spring by the Lai-momo Press. Read more >>>
KekeTop Africa Project
Hi! You who have travel or work experiencies in Africa. Do You like to share your story and publish it to KekeTop websites?
Read more >>> African Artist!! Join the Gallery KekeTop, just contact email me >>> | contact form >>>
Action Africa Volunteers
Action Africa Volunteers is a programme of Action Africa Communications which is a not- for- profit organization that specializes in development communications and year-round volunteer abroad projects available for 2 weeks to 12 Months in Africa. Read more >>>